My youngest daughter provided me with a brand new, unforgettable Mother's Day experience this year!
The day before Mother's Day was wonderful.  I volunteered at the MS Walk in the morning with my Girl Scout troop.  When I got home, my older daughter had finished the laundry and washed the dishes!  Then I got to volunteer with my younger daughter, helping the local Food Bank collect food from the National Postal Workers Food Collection. 
When we got home, the dog had already been fed.  We were off to celebrate a former babysitter's graduation from college.  This meant that we not only got to celebrate but also that I didn't need to make dinner (happy dance)!  To wrap up this great day, my family went to the Wind Symphony.  This is always wonderful, but this time they featured Rhapsody in Blue, one of my favorite classical pieces. After the show, we enjoyed visiting with a few band members (my daughters' music teachers) and some close friends. But the day was not over yet.  I was treated to my daughters playing, or attempting to play, duets with new music they just bought that day. The evening lasted much later than planned, but I couldn't interrupt the joyful sound of music and laughter coming from the other room!
And then Mother's Day happened.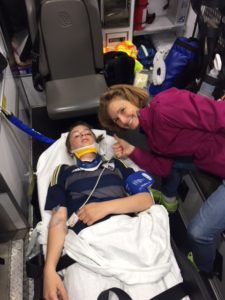 In last week's post, I wrote how often times Mother's Day dreams and expectations can be derailed. This is especially true if we do not make our wishes known or have unrealistic expectations.  I knew that this year I would be spending most of my day at the soccer field.  I decided not to plan or expect anything other than some time with my family.  My husband had a game at 11 and we did not have enough time to get home for lunch before my daughter's team warmed up.  And while it wasn't a fancy Mother's Day meal, Subway was still lunch I didn't have to prepare (another happy dance).
The first game went as well as can be expected in what my husband refers to as the "Old Man's League."  There were no major injuries or fights, so we consider that a win!  And my husband's team did actually score one goal more than the other team, but it is really not about winning for most of the players in this league. It's about not getting hurt, having fun/exercising, and then hanging out with adult beverages after the game.  Yes, in that order.
The second game, my daughter's game started and the teams seemed pretty well matched and determined to win.  Towards the end of the game, the other team was up by 1.  Then we heard some thunder and I glanced up to see the lightning in the far distance. When I looked back, Megan was down.  She started to get up and then rolled over back onto the ground.  It looked like she was holding her arm.  Not the arm she broke (humerus bone) playing soccer in the Fall 2016 season, the other one. 
She didn't get up and the coach was called.  She appeared to be talking but was not moving.  I know they were telling her to be still, but she wasn't moving her legs at all.  No words can accurately describe the feeling of watching that from a distance.  My stomach varied from butterflies (maybe it was nausea?) to what felt like crushed glass rolling around.  My heart was in my throat, my breath being held and my brain was screaming for Megan to at least move a little so I would know she was going to be OK.  Someone from the other team left the sidelines and went to help and then my husband, who had been standing down at that end of the field went on. I  waited for them to call me over
After what seemed like an eternity, I didn't wait for the call and I went out.  They thought at that moment was that she had possibly pinched a nerve in her neck.  She could move all of her extremities, but her entire left side hurt. I had a flashback to the season where she was kicked in her left leg and ended up with nerve damage.  She was eventually diagnosed with Complex Regional Pain Syndrome.  It wasn't pretty, but it was much better than what was flashing through my mind moments earlier on the sideline.
Mother's Day 2018 was not at all what I expected – but I did get to spend a LOT of time with my younger daughter.  We experienced a lot of "Firsts" together.  We had our first ambulance ride.  M
egan had her first IV, visit to the ER, her first CAT Scan, her first CT arterial Scan and her first MRI… she also got to spend 9 hours in a C Collar to prevent her from moving her neck while the trauma team tried to figure out what was going on.  Megan couldn't eat or drink until the results came back.  Besides the
uncomfortable C Collar and a sense of restlessness from lying around and only being able to see the ceiling for hours, not being able to eat and drink was probably the hardest part for her.  She hadn't eaten since noon, just played most of a tough soccer game and was very tired, hungry and thirsty.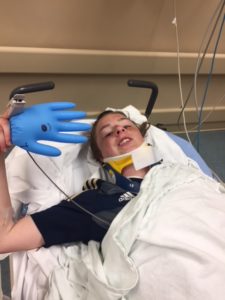 After checking into the pediatric wing of the hospital at 1:30 am and waiting for the trauma doctor to bring results, the collar was removed and Megan was allowed to eat and drink.  We celebrated with chicken strips and fries at 2:30 am.
The good news, ALL SCANS were within normal range.  They aren't really sure what happened or is happening, but there was nothing that the trauma doctors and neurosurgeons could see that scared them.  Megan was to remain under close watch for 24 hours.  It seems as if my soccer player has a common football injury known as a "stinger" (brachial plexus injury).  It will be a bit of work (PT) and a while before she is back to her active self again, but she should be fine.
As I sit in the hospital waiting for the final doctor visit and our release papers, I will gladly admit, I did not see that Mother's Day adventure coming!  I am so grateful for Megan's health and lack of severe injury.  I am grateful to the doctors, nurses, and hospital staff who provided excellent care during our 23+ hours with them.  I am grateful to the concerned parents and players on both sides of the field. I am also grateful to the EMTs and Firefighters who took care of Megan on the field and kept a sense of humor (taking the picture in the ambulance) so I could remain composed and so Megan wouldn't be as scared.
I was held together by our extended family and friends who continued to text and support us during the wee hours of the morning.  It helps that my sister's family lives in a time zone that is 9 hours ahead!  And even though I am not proud to say this, I was also grateful that my daughter could text and connect with her friends through social media.  It really helped distract her, although my arm did get tired holding the phone in a position over her face so she could see it.  Megan was not able to see the TV with her neck in the C Collar so her friends provided entertainment and support.
So parents, please hug your babies of all ages close tonight.  Everything can change in a second.  I know I talk about the Self-fulfilling prophecy a lot.  Look for the good in your child(ren) and you will find it.  You will also find more of the good and less of the other stuff if you are actively looking for the good.  It's in there!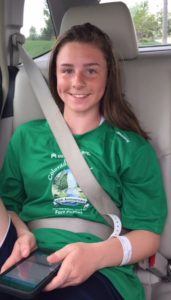 TUESDAY FOLLOW UP
Since I didn't get a chance to post this on Monday, here is a brief "Follow Up."
We haven't heard anything about Megan's lower body – and now that I can stop and think things through a little more clearly, I'm realizing they didn't do any lower body scans.  We'll follow up at her doctor's appointment on Friday.  However…
Amazingly as of today, the Tuesday after Mother's Day, Megan is back at school! She's using crutches and has access to an elevator.  She is still very weak on her entire left side, but her arm is much stronger. She is able to use crutches to and from classes as long as she rests during class.  I'm on call for when she needs to leave early.  She will be missing the Biking Unit in an elective class that she is re-taking because she missed it last year when she broke her humerus… but she IS up and moving!  We are so thankful!!!