Dear Dr. Renee,
I'm feeling overwhelmed. There is SO much to keep track of now that we're on child #3. All the toys, clothes, shoes, and accessories are just one big mess. Help!
Feeling Swamped

Dear Feeling Swamped,
No one warns you when you get ready to have children just how much stuff accompanies them!
Here are two of my favorite tips for helping to sort things.
1. Toys: Organizers will tell you that the less you have, the less you have to clean up and organize. That's true. However, if you get things for your kids and other people get gifts for your kids, you can end up with a lot of things.
For what you do have, I would recommend big bins or drawers for children to dump the toys in. I think in the 'olden days' having a toy box accomplished this same thing – and children seemed to have a lot less than they do now.
You can attempt to have one bin for trains and another for barbies, etc. However, sometimes, just letting your kids dump things into bins makes the area seem so much cleaner. Having specific or general bins will depend on your comfort and energy levels. Whatever you choose, remember that it doesn't have to stay that way forever.
Also, having your children clean up what they are currently playing with before they take out the next thing will help keep things neat. While it is so worth it in the end, this does take a watchful eye and lots of education & reminders on your part. Since you are feeling overwhelmed, I would tuck this idea into your back pocket until you have a little more energy to be able to use towards this strategy.
2. Clothing: Pick a color for each person in the family. When I was growing up, my mom would put blue dots on the toes of my socks and green dots on my sister's socks. I think it was because they were all the same socks, but we wore different sizes. It certainly made it easy for us to help sort when she did laundry.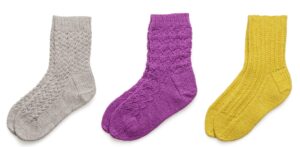 I have a client who took this color coding a step further. She chooses mostly 'that' color for each of her child's clothes. For example, one child wears mostly blue t-shirts and the other wears mostly green. She uses these colors for accessories such as barrettes and ponytails and also for bathroom towels and cups/plates in the kitchen. That way, there is no fighting over the 'cool' plate at lunch.
Even though it feels like an impossible task right now, it does get easier.
Take a deep breath and choose one of the tips above to get you started.
You can do this!
–Dr. Renee