I'm sure I don't have to be the one to tell you that this year Valentine's Day will look much different than it did in the past!
Some of our kids are still remote learning, others are in hybrid situations, while some are in school full time in-person.  Kids in remote learning can only share virtually… and many kids who are physically in school are not allowed to share or pass anything. Teachers are not even handing out or collecting any papers.

That means that celebrating Valentine's Day at school might not include the card exchange that many children and parents are used to.
My suggestion would be to not make a big deal about it.  Do not draw attention to the fact that your child is "missing out" on something.
Focus on other things that are able to happen this year.
And don't worry-  I've got you covered! 
Keep reading for ideas that you can do at home or in a safe, socially-distanced way to help your family enjoy Valentine's Day!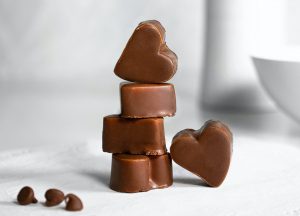 Starting at home, there are lots of easy ways you can make Valentine's Day special.  For me, it only needs to involve chocolate and I'm happy! 
However, I do like to do a few things around the house to help encourage connection and love between my family.

Using construction paper and scissors, you can create conversation hearts to put on your child's door.  You can write the words from actual conversation hearts (I Luv You, Be Mine, You're Special) or you can write more personal messages to your child.  If you have a young child, consider putting pictures of family on the hearts or drawing/cutting out cute pictures from magazines.
There are a gazillion arts and crafts that you can do as a family.
A super easy one is to paint glue hearts on rocks and then sprinkle glitter on them.  Then you can leave them in your potted indoor plants, in your yard, or even around your neighborhood to spread cheer.
I know not everyone likes glitter as much as I do – you can also do this with paint or permanent/paint pens.  It's still a good idea to have your child wear a smock or clothing that can get messy, but it's a bit more contained than a glitter project.
Create a "self-serve" station for your child to make Valentine's Day Cards to send to friends and family.  I know the post office is currently experiencing some difficulties and the cards might not arrive on time this year. I am pretty certain the recipient would be excited to get the Valentine's Day card whenever it comes! 

To create a "self-serve" station, set up an area with a variety of craft materials so your child can create their cards.  Some ideas we have used:  precut-cards, construction paper, scissors, glue, glue stick, crayons, markers, colored pencils, precut items (i.e., hearts of different colors and sizes), stickers, glitter, little rhinestone jewels, lace, etc.
And then, there is food.
I love to serve heart-shaped Pizza (you can even order this now if you don't want to make it from scratch).  One year we had heart-shaped hamburgers because there was a request for hamburgers and hot dogs.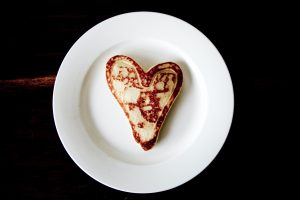 I also cut anything food-wise into heart shapes over Valentine's Day week when I can.  Sandwiches, cheese, pancakes, fruit (strawberries, apples, watermelon, kiwi….), brownies. 
I
t helps that I have a few different sized heart-shaped cookie cutters, but you can totally do this freehand with a knife.
Don't forget Valentine's Day cookies!  If you don't want to eat all of the cookies you make, you can door drop them at your neighbors' and friends' porches.
We used to take them to the fire station and the police station but I don't know if they are accepting things right now due to Covid.  It might be good to call first if you want to do this.
I share more easy ideas in my Parenting Tips


CLICK HERE

to receive them.
Focus on what you do have and what is going right helps your children be more optimistic during uncertainty.  It could help motivate them to 'do' something (speaking specifically to parents of teens and tweens) and help connect your family in a positive way. 
Any day can be a special day, these are just a few tips to make one around February 14th special.